It's simply Award-licious! Thanks to
Chef Janice
,
Chef Marzie
,
Chef Snippets
,
Chef Adrian
&
Chef Trinity
!
Menu For Today





Appetizer


~

You Make Me Smile

award
by Chef Janice and Chef Marzie.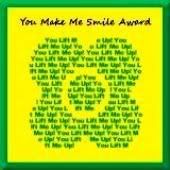 My lovely friends who Make Me Smile, you're graciously invited to join me for this appetizer:
Marzie, Janice Ng, Emila, Bobby, Karen, Trinity, Randy, 38kia, Jamilla, NAFA, Adrian, Spiff

(psst, spiff.. don't tell Nick that I invited you only,ya! *wink*)

Nihal, Bobo, Sandman and Sam.

~

Nice Matters

award
by Chef Marzie[again].


My Nice, Sweet and Helpful friends, you deserved this dessert! Enjoy! :)
Pia, Snippets, Bobby, Janice Ng, Karen, Trinity, Menopauseprincess, Jo, Joezul, Amber, Kev and Suz.




Main Course


~

Egel Nest

award
by Chef Snippets.


Brad Egel originally created this award and started the egg rolling to pass the love around.
My dearest friends from Weekend Snapshot, your blog has been hatched! Enjoy your main course! :)
Yen, Emmyrose, Snippets, Diane, Chris, Kero, Carver, Manilenya, Isabelle, Hana, Sasha, Josephine, Lestat, Ascender and Mama Pajama.

~

Blogging Star

award
by Chef Marzie [again].

My Blogging Stars, your dinner is served! Enjoy! :)
Thanate Tan, Janice Ng, Emila, Bobby, and NAFA.




Desserts


~

Totally Fabulous

award
by Chef Adrian.


Christy from Totally Fabulous & Ann from A Nice Place In The Sun orginally created this award to those bloggers who are fun, cool, and of course Totally Fabulous!
Ettey, Gabrielle, Liza, Lissa and WGM.

~This award was designed by Mike Wheeler of Ordinary Folk. If you would like to have a cool blog badge, award, or special profile picture created then contact the artist for his rates.

~

Prison Break Out

award
by Chef Adrian [again].


"This award casts a spotlight on bloggers who are just beginning to draw lotsa attention — the equivalent of a song with a bullet on Billboard's Top 100 chart. Lotsa good posts. Lotsa good buzz. These bloggers are going places in a hurry."
Barrett, Bro Bokjae, Winston, Maiylah, Marzie, Janice Ng, Emila, Bobby, Sam and MT.




Snack


~

Outstanding New Blog

award
by Chef Trinity.


My dearest friends who owns new blog and my dearest new friends who own a blog, you're served with this snack because i thought you have an outstanding blog! Enjoy your snack! :)
Spiff, Nicole Tan, Judith, Pia and Joanne.

Wow! That was the most satisfying meal i've ever had! Hope you guys are full now! Thank you for your company/ies over the award-licious dinner. :) Of course, we must thank the chef as well. Without them, there won't be anything for us. Thank you, Chefs! ;)
Random Similar Post: